Go to Classic Help
What are the steps to setup the Reservation Confirmation Email using a built-in template?
This tool allows you to build a rich formatted HTML confirmation email that carries necessary information for your guest to confirm the reservation details.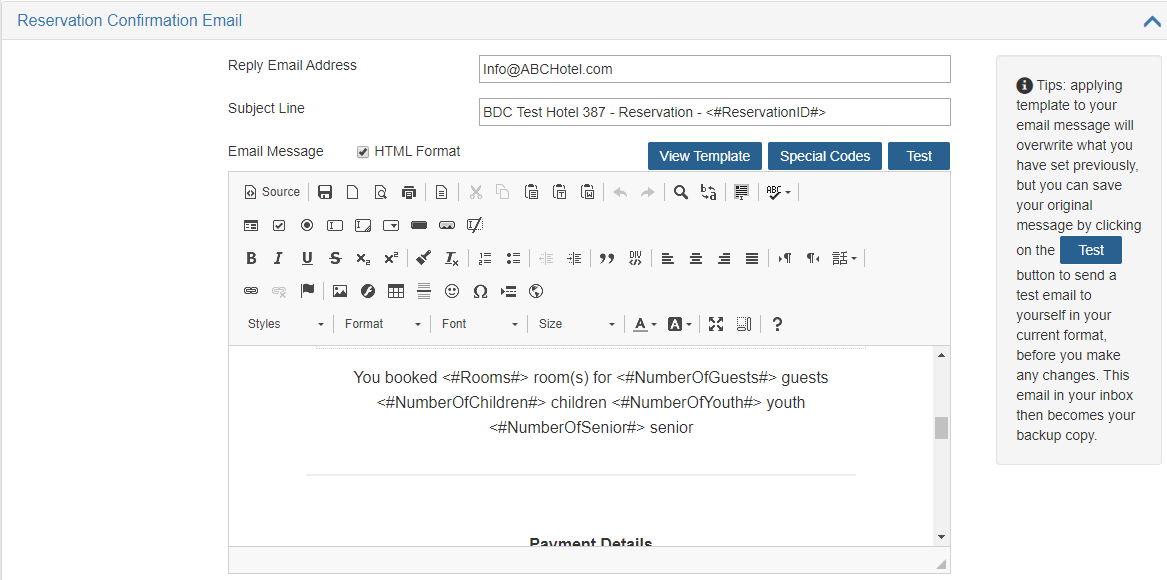 You can follow the steps below to set it up:
Step 1: Backup original content
Before you make any changes, backup your current email contents if you think it is necessary. You can copy and save the content from the editor to your computer, or press the Test button to send a test email to yourself. This email in your inbox then becomes your backup copy.
Step 2: Load and aplly the Template
Press the Template button and a template preview window will popup. If this is the desired format of your email, press the Apply Template button. This will prompt you to overwrite your current message body settings.


Step 3: Make additional changes
The contents in the rich-format editor will be overwritten with the template contents. Make necessary adjustment or modifications to the content in the editor. Note that you will see the Special Codes that look like "<#GuestName#>" in the message. They will be replaced with actual values of the reservation at the time when the reservation email is sent.
Press Save button to save the contents in the editor.
Step 4: Send a test email
This completes your setup for the confirmation email. If you wish to see what the change would look like, press the Test button again to send a test email to yourself. Note that the test email sends email to the "Reply Email Address", so please make sure this email address is properly set before you press the Test button.