Go to Classic Help
How does contactless check-in work?
As shown in the following diagram, the Contactless check-in process includes the following steps:
Pre-Check-in
Room Assignment
Check-in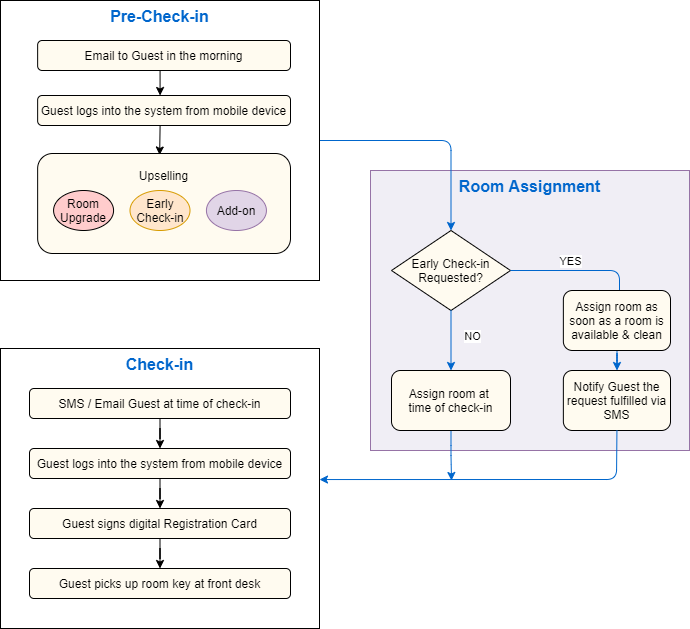 Pre-Check-in
In the early morning of the check-in date, the system sends an Pre-Check-in email to the guest. The guest clicks the link in the email and logs into the system, where the guest is provided by the following upselling options (if availability allows) while confirming the pre-check-in status:

Room upgrade



Early Check-in options


Add-on items


The guest has the option to choose their preferred check-in time (including the Early Check-in times) at a 30 minutes interval. The property also has an option to limit the number of check-in's per time slot. If enabled, the guest will not be able to choose a time slot if it's already full (see "How to setup guest check-in" section below for details).
When guest completes the Pre-Checked-in status, the system emails a confirmation to the guest and a notification to the property.
Room Assignment
Upon receiving the Pre-Checked-in notification, the property can either manually assign a room or let the system automatically assign a room to the reservation.
For automatically assignment, the system checks the availability of the room and its housekeeping status every 15 minutes. If the guest has requested Early Check-in, the system will assign a room as soon as there is a clean room available, and notify the guest via SMS text messages. Otherwise, the system will make the room assignment at the designated check-in time. If for any reason, the system is not able to assign a room by the designated check-in time, the system will notify the guest to contact the property directly or check-in in person.
Check-in
At the designated time of check-in, the system sends an email and a SMS text message to the guest to notify it's time to check-in. The guest then logs into the system from their mobile device, where the guest views the assigned the room number, and fills and signs the digital Registration Card. Once completed, the guest is confirmed to have checked in, then the guest can pick up their room key from the front desk.