Go to Classic Help
How to setup Billing Instructions for automatic transfers?
Sometimes you may want to have two separate bills for a reservation, for example, a bill for the guest and a bill for the company or a travel agent. And you may want all room charges go to the company bill and all other charges to the guest's own bill.
In these scenarios, Billing Instructions may come in handy to allow charges to be transfered to your desired folios automatically. Billing Instructions are basically a set of rules defined on a source folio (e.g. the folio for the guest) to instruct the system to transfer charges from the source to a receiving folio (e.g. the folio for the company) automatically at the time when you make a payment (i.e. when you press the Pay Bills button).
1. To create or modify the Billing Instructions:
Click on the B.I. button next to the Source Folio to open the popup.



On the Setting up Billing Instructions popup,

Select what type of charges you need to transfer to the receiving folio. Once chosen, the Posting Codes that are associated with these types (described in Section 2.3 Posting Codes) will be transfered when the Billing Instructions are processed.Select the receiving folio that the charges will go do. The other folios within the same reservation will be listed by default. If you want to transfer to a folio that is not in the list, you can use the Search button to search for any other folios that are currently IN-HOUSE.Press the Save button to save the changes




2. To delete an existing Billing Instruction:
Click on the B.I. button next to the Source Folio to open the popup.
Press the Delete button to delete the current Billing Instruction
3. To process the Billing Instructions:
When the Billing Instructions are processed, the system will select the postings from the source folio based on the instructions and automatically transfer them to the receiving folio.
If Billing Instructions are setup on any folio, when you pay all bills at the Reservation Details window, or open a single folio and pay in the Guest Billing window, the Billing Instructions will be automatically processed before you can open the Payment popup.



Depending on whether there are any pending transactions in the Source folio that haven't been transfered to the receiving folio, the system will display messages like
"Billing Instruction processed and balance updated", or
"Billing Instruction processed – no pending transactions to process"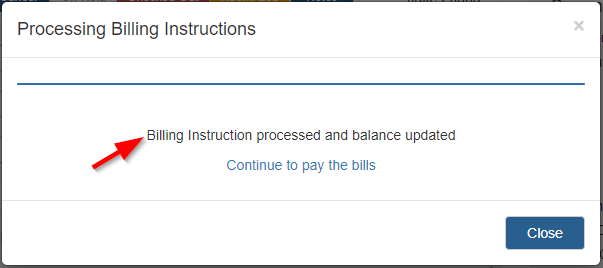 Then you can click "Continue to pay the bills" to continue with the payment, or close the popup window and open the source (or receiving) folio to review transfered postings and balances if needed.