Go to Classic Help
Step 1: choose the Room Type of the inventory block.
Setp 2: set the Block Size – number of rooms in this block. If any change is made after initial setting, the Original Blick Size is also displayed for your information. Note: you cannot reduce the block size to less than the number of pickup reservations that have been made in this block.
Step 3: set the default number of Guests per Room – informational only. The actual # of guests can be edited in individual pickup reservations.
Step 4: choose an existing rate group, or create a new rate group for this inventory block
Step 4.1 – choose an existing Rate Group: Click and type into the Rate Group field to search and select a Rate Group. Once the Rate Group is selected, you can edit the rate value and applicable restrictions for the selected Rate Group by clicking on the "Set Rate fro this period" and "Set Restrictions for this period" link. Note: If this existing rate group is associate with other room types, the rate value or restriction changes will be available to those room types as well.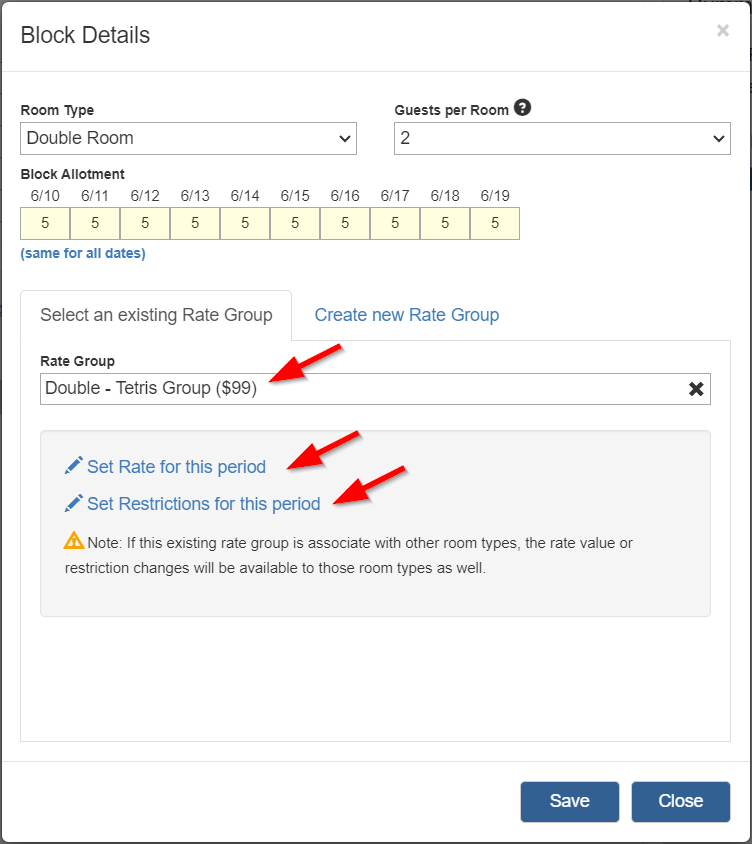 Step 4.2 – create a new Rate Group: click the New Rate Group tab and enter required information for the new Rate Group, e.g. Rate Group Name, date period, price and any applicable restriction. For accounts enabled with the Financial System, you must enter the associated Posting Codes for the new Rate Group as well.
After the creation, the Rate Group details can be modified later at Setup >> Rates and/or at Home >> Rates & Restrictions section.